Our Goal
The MDCC helps OSEP document and learn from the model development and implementation process and outcomes. MDCC synthesizes findings across model demonstration projects to identify characteristics of an effective implementation and model refinement process—one that moves a practice from early testing to full implementation, sustained implementation, and wider adoption. The MDCC addresses the kinds of questions that will be on the minds of potential adopters of those models, such as administrators, service providers, and teachers: What does it take to implement a new program or practice, and what are the implications of adopting a model for implementing organizations and stakeholders?
The MDCC's objectives are to:
Facilitate collaborative partnerships with model demonstration grantees to create opportunities to learn and share ideas, tools, and resources
Work with grantees to establish consistent design elements across projects to deepen the evidence base for the models
Identify key issues in translating research to practice, work with grantees, develop approaches for collecting and analyzing data, and synthesize data across projects and cohorts to illuminate the issues.
Examine model implementation experiences and results across cohorts to provide information to help OSEP bridge the chasm that can exist between identifying evidence-based practices and achieving their widespread use.
The Model Demonstration Projects
Beginning as early as 1970 and continuing through the reauthorization of IDEA 2004, Congress has authorized OSEP to conduct model demonstrations to improve early intervention, educational, and transitional results for children with disabilities. Since 2005, OSEP has funded eight cohorts of model demonstration projects, each focused on a single new and promising practice, procedure, or program that is deemed to have high potential for improving child outcomes.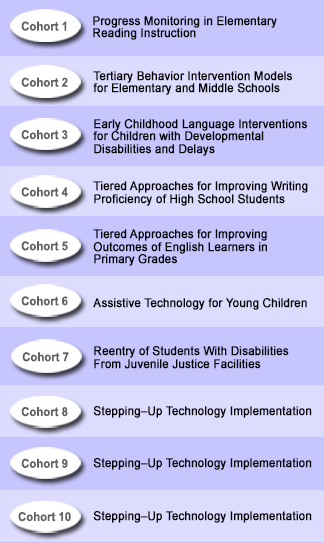 The Model Demonstration Coordination Center has been funded with Federal funds from the U.S. Department of Education, Office of Special Education Programs, under contract number ED-CFO-10-A-0133. The content of this publication does not necessarily reflect the views or policies of the U.S. Department of Education nor does mention of trade names, commercial products, or organizations imply endorsement by the U.S. government.