Cohort 10 Technology Implementation Projects

Stepping-Up Technology Implementation
In August 2014, the OSEP Educational Technology, Media, and Materials for Individuals with Disabilities Program funded three Stepping-Up Technology Implementation Projects. This is the tenth cohort of projects in the Model Demonstration Coordination Center.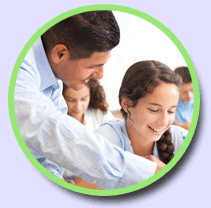 Central to these projects are evidence-based instructional and assistive technology tools that benefit infants, toddlers, or children with disabilities. Features of the projects are the following:
Resources and products that promote the effective implementation of evidence-based instructional and assistive technology tools in early childhood and K–12 settings
Data-based decision-making to improve instructional practices and policies and infant, toddler, and child outcomes in early learning settings and elementary and secondary schools, as well as postsecondary school enrollment, persistence, and completion.
Cohort 10 projects represent a range of intervention components. Examples are as follows.
Technology to support large-scale implementation of infant and toddler individual growth and development indicators (IGDIs).
Technology-delivered individualized options for instruction on critical mathematics content for students with or at risk of math disabilities in early elementary grades
Technology-delivered augmentative and alternate supports in core academic vocabulary for students with significant cognitive disabilities who have complex communication needs.