Cohort 8 Technology Implementation Projects

Stepping–Up Technology Implementation
In January 2013, OSEP's Educational Technology, Media, and Materials (ETechM2) for Individuals with Disabilities Program* funded seven Stepping-Up Technology Implementation Projects. This is the eighth cohort of projects in the Model Demonstration Coordination Center. These projects aim to promote the effective implementation of evidenced-based instructional and assistive technology tools in K-12 settings.
Features of the projects include the following: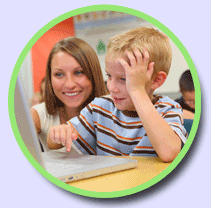 Evidence-based technology tools that benefit students with disabilities
Resources needed to effectively implement evidence-based technology tools
Products that will help K-12 schools to effectively implement these technology tools
Cohort 8 projects represent a range of technology intervention components (e.g., technology tools, products, and resources) designed to improve academic achievement across multiple academic domains and other valued outcomes for students with disabilities:
A mobile braille application to improve braille literacy and information technology (IT) literacy for blind and visually impaired students
A computer-based graphic organizer with embedded self-regulation strategies to improve the writing skills of students with high incidence disabilities across content areas in low performing elementary and middle schools
A web-based curriculum to increase literacy, IT literacy, college and career readiness, self-determination and self-advocacy skills of high school students with disabilities, including those with intellectual disabilities
A web-based college and career readiness curriculum and teacher toolkit for middle school teachers, students with intellectual disabilities and their families.
Professional development models to support teachers to instruct students with disabilities in computer-based study strategies to improve online academic reading and research
Professional development and instructional coaching models to support the effective implementation of technology to meet the literacy needs of students with learning disabilities in middle schools
An experimental evaluation of online technology-based coaching to provide resource room teachers with high quality literacy instruction in elementary schools and middle schools
* On December 9, 2012, OSEP officially changed the name of the Technology and Media Services for Individuals with Disabilities Program to the Educational Technology, Media, and Materials for Individuals with Disabilities Program.