Cohort 10 Stepping-Up Technology Implementation
The University of North Carolina at Chapel Hill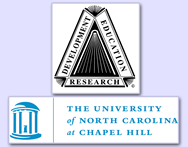 Project CORE
Project CORE is designed to develop products and services to support the implementation of a core vocabulary approach to augmentative and alternative communication (AAC) for school-aged students with significant cognitive disabilities who have complex communication needs. The evidence-based and empirically derived core vocabulary approach is expected to support these students in developing symbolic communication that can be used across contexts while supporting improved academic success.
Project CORE will use a prioritized list of words, developed from the Dynamic Learning Maps core vocabulary, that reflects the intersection of the most frequently occurring words in social communication and the most important expressive vocabulary in current college and career readiness standards. The vocabulary will be organized with two or more levels of complexity, delivered through five or more technology-based platforms, and posted for download from the Project CORE website for print-on-demand use.
During the project, the following products and resources will be developed:
Readiness assessments and action plan models
Interactive and on-demand training and support materials
Self-evaluation and observational fidelity checks
Data-based decision frameworks for changing the complexity and format of core vocabulary.
Expected outcomes are improved student communication abilities, greater frequency and range of functions expressed by students, increased practitioner use of evidence-based AAC interventions, academic gains for students with significant cognitive disabilities, wide use of the core vocabulary resources, and a replicable design process.