Cohort 8 Stepping Up Technology Implementation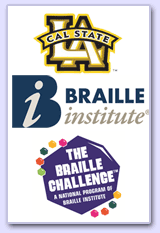 California State University, Los Angeles
Improving Literacy and Technology Skills Using the Braille Challenge Mobile Application (BCMA)

The Braille Challenge Mobile Application (BCMA) project is a collaborative partnership between California State University, Los Angeles and Braille Institute of America. The goal of the project is to increase technology and braille literacy skills of children who are visually impaired through the development, evaluation, validation, and widespread dissemination of the BCMA. The project consists of two main components: a) assessment of braille literacy skills and b) support curriculum to increase braille literacy skills. Both components will be designed for i-devices (e.g. iPads, iPods, iPhones) and delivered using a Bluetooth refreshable braille display, an electronic screen reading tool that provides a braille display of the visual output when paired to the i-device.  
The assessment component is based on the existing National Braille Challenge, a national academic contest of braille readers and writers on fundamental braille literacy skills. The BCMA will assess four areas: reading fluency, reading comprehension, spelling and proofreading, and writing speed and accuracy.
The BCMA also will include a literacy curriculum aimed at promoting literacy achievement and increasing skills in technology using evidence-based instructional strategies. The curriculum will present activities that will lead to improvements in literacy skills.
Scores from assessments and curricular activities taken on the BCMA will populate a large database; thus, allowing tracking of student progress over time and creating a cumulative large-sample database of aggregate de-identified data, which can be later analyzed.