Cohort 9 Stepping-Up Technology Implementation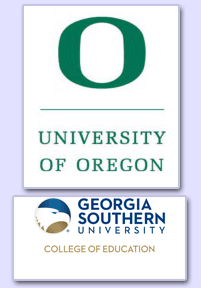 University of Oregon, Center for Advanced Technology in Education and Georgia Southern University
Project ESCOLAR: Etext Supports for Collaborative Online Learning and Academic Reading
Project ESCOLAR is a collaboration between the Center for Advanced Technology in Education (CATE) at the University of Oregon, Georgia Southern University, and the Biological Sciences Curriculum Study group. Project ESCOLAR will develop, test, evaluate, refine, and disseminate collaborative online projects (COPs) designed to support academic reading of science content for middle school (6th- to 8th-grade) students with learning disabilities (SWLD).
A COP is an online complete thematic unit that provides project-based learning experiences for SWLD to engage in real-world activities and work collaboratively to solve authentic problems. Each COP unit contains five to seven stages, or chapters of learning, that present all the content to be learned in a 12- to 15-week period of daily instruction. Each COP will provide reading instruction on science content through online materials that are accessible to SWLD. Accessibility features include friendly vocabulary definitions, text-to-speech, notetaking abilities, guided questions, and reading prompts.
Project ESCOLAR has six major objectives: (1) adapt and fine-tune two existing COPs; (2) design, test, and fine-tune one new COP; (3) design and evaluate pre-post content assessments; (4) refine an existing teacher professional development model; (5) test the usability and efficacy of the COPs for improving the science academic achievement, attitudes toward science, creativity, and scientific innovation of SWLD; and (6) disseminate and test the effectiveness of COPs with 10 different schools.
Project ESCOLAR will use a design-based research approach in which interactive development activities will lead to pilot and dissemination studies of the effectiveness of three COPs.